Water Division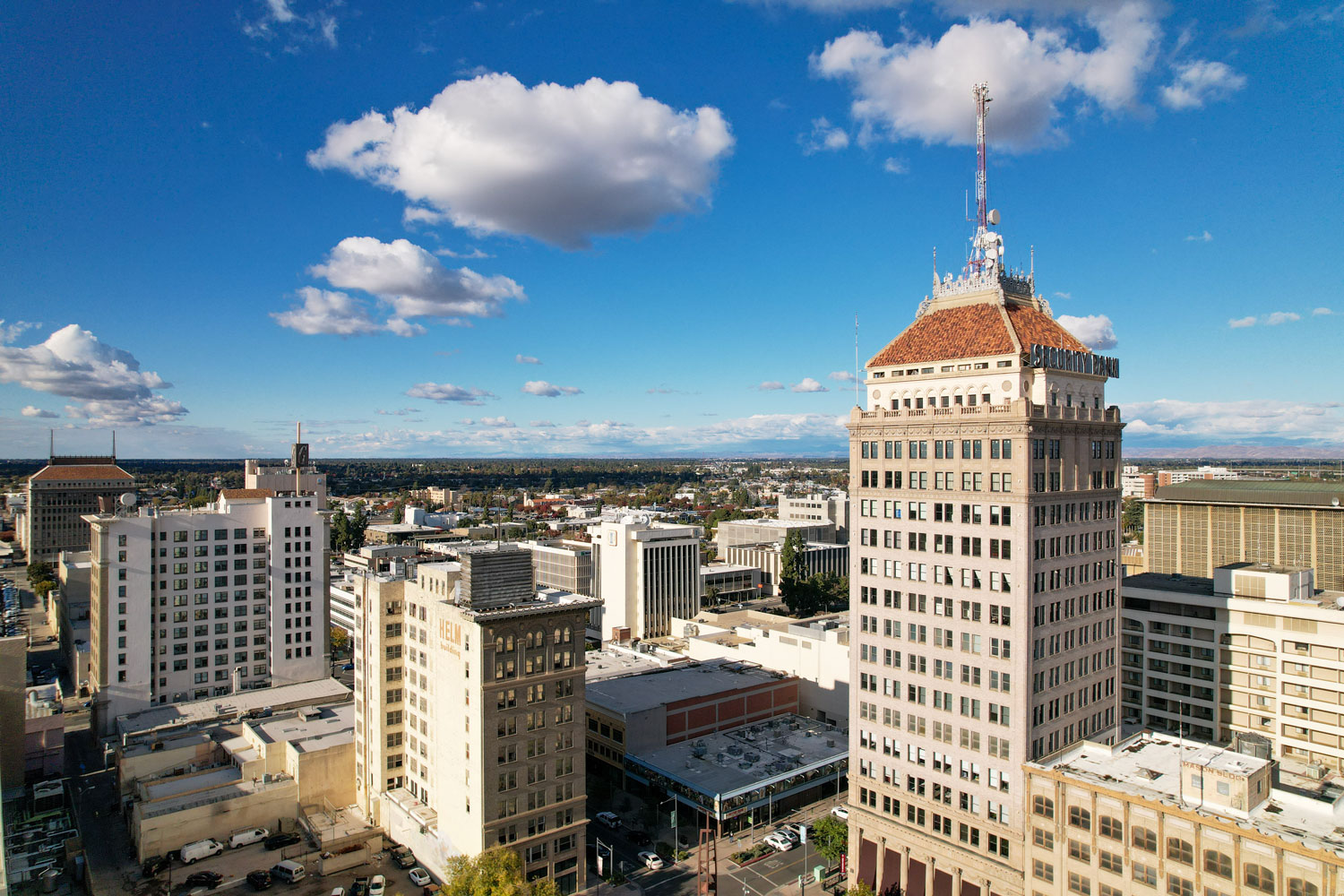 Water Division – Our Mission
We ensure our community has safe, reliable and affordable drinking water
---
If you experience or observe any of the following, report the issue to the City of Fresno:
Water leaks at fire hydrants, valves, or in a roadway
Low water pressure
Sediment coming from water fixtures
Unusual look or taste of water
To report a leak or other water-related concern:
Call the City of Fresno's 311 Center by dialing 3-1-1 within City limits or calling (559) 621-CITY (2489)
Report the issue in FresGO
About the Water Division
The City of Fresno delivers drinking water to more than 142,200 residential, commercial, and industrial customers over a 114 square mile area of the city including many county Islands.
The Water Division has more than 190 full-time employees with a large variety of functions – from treatment system operators to pipe fitters, mechanics to conservation specialists, and electricians to operators.
There are several primary functions of the Water Division: Production, Recharge, Distribution, Quality, Conservation, and Instrumentation, Electrical and SCADA. Information about each of these functions is outlined below.
Production
The Production section maintains all City of Fresno water wells, pumps and motors. The section is also responsible for well disinfections, tank inspections and repairs, building pump pedestals, and installing discharge lines and flow meters. In addition, staff obtains the groundwater table readings known as "Static Water Levels" four times a year throughout the City's water service area.
Recharge
The Recharge section of the Water Division operates and maintains 26 percolation basins with a combined capacity of 1,650 acre feet (AF) when full. The City's recharge facilities staff maintains a series of valves and basins to ensure basin levels are conducive to the best percolation rates to replenish, or "recharge," the underground aquifer, which is located anywhere between eighty to hundreds of feet below ground. This maintenance requires heavy equipment and seven-day work weeks. Recharge staff is also responsible for maintaining flow meters and basin landscapes.
Distribution
The City of Fresno owns the water distribution system that delivers potable water to houses and businesses within the City's service area. The water distribution system consists of a vast network of water mains, water service connections, fire hydrants, valves, and water meters. The distribution system and all related infrastructure are maintained by the Water Distribution section. Staff performs preventive maintenance and repairs on the distribution system daily, including mainline and service line repairs, fire hydrant replacements and repairs, and new infrastructure installation. This team also responds to water emergencies 24 hours a day, 7 days a week, 365 days per year.
Quality
The Water Quality section ensures the City's drinking water is safe by obtaining water samples to ensure all drinking water standards are met. Staff also tracks water quality at treatment sites to ensure effective treatment for removal of contaminants and the disinfection of groundwater through the addition of chlorine. In addition, flushing the distribution system is an ongoing activity performed by the Water Quality section to help ensure the water is fresh and free from sediment buildup. Finally, Water Quality staff screen nost calls that come in regarding water quality, service, or pressure issues and then dispatch field staff members to assist customers as needed.
Conservation
The City of Fresno is committed to water conservation and protecting our water supply. The Water Conservation team is responsible for ensuring our community complies with local and statewide conservation regulations. In addition, the Water Conservation Program offers several free services, rebates, and outreach materials to educate customers and protect this precious resource, ensuring its availability for generations to come.
Additional information can be found on the Water Conservation website.
Instrumentation, Electrical & SCADA
The Instrumentation, Electrical and SCADA (Supervisory Control & Data Acquisition) section has three sub-sections. Each sub-section plays a vital role in maintaining the Water Division's technical devices and services ranging from, but not limited to, high horsepower electric motors to data servers.
Fast Facts
More than 190 full-time employees
$66.9 million annual operating budget
Operates three surface water treatment facilities:

Northeast Surface Water Treatment Facility

Located in Northeast Fresno

Treatment capacity of 30 million gallons per day (mgd)

Southeast Surface Water Treatment Facility

Located in Southeast Fresno
Treatment capacity of 54 million gallons per day (mgd)

T-3 Surface Water Treatment Facility

Located in East Central Fresno
Treatment capacity of 4 million gallons per day (mgd)

Maintains the water distribution system:
Frequently Asked Questions
Is Fresno's water safe to drink?
The City's water supply is strictly regulated by state and federal government standards, which are among the most stringent in the world. The water supply meets or exceeds all standards at all times. As a result, the City's water treatment systems are viewed as models of good treatment throughout California.
Contact us at (559) 621-5300, or visit our Water Quality & Testing page to review copies of our annual Water Quality Reports.
Is the City's water fluoridated?
No, the City no longer fluoridates the water that is delivered to customers.
Is chlorine added to our water?
Yes, the City adds chlorine to the water it delivers to customers. The chlorine serves as a disinfecting agent.
How do chemicals get into my water?
Many of them, such as calcium, magnesium, iron, and others, occur naturally in water, and most of these "natural" chemicals are not harmful to your health.
Rain or overwater runoff seeping through a hazardous waste dump and other such sites eventually carries unwanted chemicals into underground water sources and pollutes waterways.
A large source of chemicals in the water comes from human impacts. For instance, if a person paints their house with an oil-based paint, cleans their brushes with paint thinner, and dumps the paint thinner in the backyard, the chemicals can seep through the soil and contaminate the underground aquifer. Therefore, everyone must think about the impact of their actions and properly disposes of hazardous materials and chemicals that may impact our water supply.
Why is there brown, yellow, or orange water coming out of my tap?
The discoloration you see typically comes from the reaction of galvanized iron pipes in the home when the water is allowed to sit in the pipes for some time. It is usually more noticeable in the morning or evening when the water is first turned on after several hours or remaining stagnant. The longer the water sits in the pipes, the more intense the color will be. Customers can flush the pipes for 1-2 minutes to remove the discolored water.
Will water discoloration hurt me or anyone else in my household?
Although iron – the primary cause of the color – appears unappetizing and may impart a metallic or slightly bitter taste, it offers no health threat. Extremely high levels of iron can induce nausea and vomiting, but that amount would not taste good and a person would have a hard time drinking it.
What should I do if I see discoloration in my water?
Although iron, which is the primary cause of the color, appears unappetizing and may impart a metallic or slightly bitter taste, it offers no health threat. Customers can flush the pipes for 1-2 minutes to remove the discolored water.
If you continue to see discoloration, call 621-5300 or report the issue through FresGO .
What causes sand in my water?
Although not harmful to your health, sand in the water can be a nuisance for customers, as well as City staff responsible for maintaining the water system. The geologic formations from which we pump our groundwater include layers of sand, gravel, and clay particles. Older wells constructed without modern gravel filters and screens can periodically pump sand out from the formation. Fresno has about 100 such wells, which we plan to replace as funds allow. Each new municipal well costs more than $400,000.
Modern wells occasionally have various structural failures that allow sand into the pump intake. Customers can help the City prioritize replacements and repairs by calling (559) 621-5300 to report sand in the water.
Where are water lines or pipes near my home?
Most main water pipelines are buried under the street in front of your property. When City crews establish an original water connection at a property, they tap into the main water line in the street with a smaller pipeline, and then connect it to the customer's water meter service at the property. For the customer to receive water, their property must connect to the water meter service the City has provided.
The City will repair broken water lines and services in the public right-of-way. Property owners are responsible for any repairs at or after the point of their connection to the water meter service.
The customer water meter service is usually located in the front of the property and the service is often marked. For information about locating your water meter, call (559) 621-5300.
How do I know my meter is accurate and is reading the correct time and gallons?
The accuracy of water meters is based on American Water Works Association (AWWA) standards. In addition, the Water Division has a meter testing program and can test meters for accuracy if needed.
Individual water meters record consumption on an hourly basis and report to the system every six hours via a radio frequency or cellular signal to strategically placed gateways throughout the City. The gateways then transmit the readings gathered from multiple meter endpoints to a City server. These reads are then forwarded to the Beacon data management system and are used for City/customer interface and billing.
What do I do if I think my meter isn't recording accurately?
For help understanding your water meter readings, or for any concerns regarding incorrect meter read data, contact the City of Fresno 311 Center by calling (559) 621-CITY or dialing 3-1-1 within City limits between 7 a.m. and 6 p.m.
What is a backflow device?
A backflow device is a State-mandated device placed on specific types of water users to protect the City's water supply. If the water pressure in the area or in a building drops, the used wastewater already in the building may flow back into the main water system. The backflow device is in place to prevent this.