Downtown Revitalization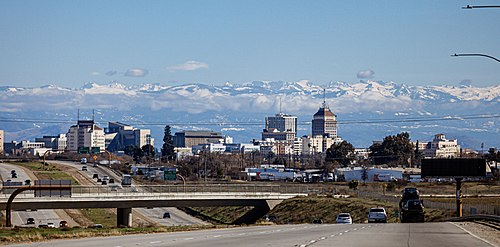 Great Cities Have Great Downtowns
Fresno is reclaiming its Downtown. After experiencing a decline in the 1960s decline that most American downtowns suffered, our city center began to bounce back. A renaissance has been underway for the past decade and a half, and that resurgence will accelerate dramatically in the next few years due to strong and sustained commitment from civic and business leaders, our development community, and, above all, our residents. The lofts, the makers, the beer, the food, the state-of-the-art transportation network: Fresno is following in the footsteps of cities such as Oakland and Sacramento, both of which recently followed a similar formula to successfully transform their downtowns.
More than 600 apartments have been recently added to Downtown. The Mayor's goal is to grow the neighborhood from 3,000 to 10,000 residents.
Downtown is the most walkable part of Fresno with protected bike lanes, two converging bus rapid transit lines and the largest outdoor public art collection in California.
Downtown Fresno Works and Plays
1) The Brewery District is not just for pub-crawing. The City is now working on a brewery-incubator to support the a launch of yet more future brewers and hospitality entrepreneurs.
2) The Fres-Yes Festival draws more than 18,000 people annually to the Brewery District, home to several beer brands made here but appreciated by beer-lovers across the state.
Downtown Fresno: Jobs, Housing, Fun
Revitalizing Downtown is about creating a city core that will make young professionals and creatives who graduate from Fresno's nationally ranked universities feel like they can stay in the region and pursue Big City ambitions.
Downtown's high job density, the downtown Chukchansi ballpark, and architectural heritage give the neighborhood the potential to be one of Fresno's greatest assets.
The transformation has momentum but is still fragile: some iconic buildings on Fulton Street remain unoccupied and some necessary services like grocery stores are still missing.
These challenges can be overcome with strong community commitment and leadership from the City of Fresno. Fresno's historic development patterns and current market conditions were explored in-depth and encapsulated in a comprehensive plan adopted in October 2016. The City is also putting in place an Enhanced Infrastructure Financing District (EIFD) that includes the Downtown core. EIFDs allow for cities to finance traditional public works such as transportation, parks, and libraries.
The City is also putting in place an Enhanced Infrastructure Financing District (EIFD) that includes all of the Downtown core. EIFDs allow for city governments to finance traditional public works, such as transportation, transit, parks and libraries, water and sewer facilities, solid waste disposal, and flood control and drainage.