Valley to Valley
Connecting California's Regional Powerhouses
The City of Fresno was literally founded in 1872 as a Central Pacific Railroad station. High-Speed Rail (HSR) now represents a similar opportunity for transformation that comes once in a generation. The dream is to not only help Fresnans travel out of the city but to help the rest of California discover Fresno.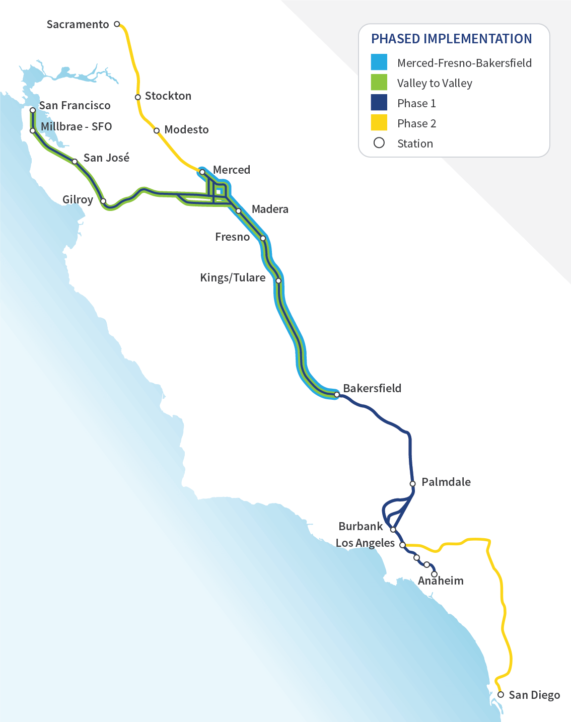 High-speed rail will half the travel time on the current passenger routes through to Fresno.
The 2018 California State Rail Plan projects 1.3 million daily passenger rail trips by 2040, a tenfold increase over today.
Why Fresno Believes in High-Speed Rail
Why Fresno Believes in High-Speed Rail
We are the first city to witness the High-Speed Rail dream start to come true, with construction beginning on the first 29-mile leg of the track right here in Fresno in January 2015.
This also means Fresno is paying a higher price for this dream than any other city in California. Not only do we share in the costs, but the construction has cut off downtown from our historic Chinatown and its businesses and restaurants.
Sprawl & Pollution Reduction
HSR would drastically reduce highway congestion and eliminate more than 13 million metric tons of carbon dioxide equivalence annually, an environmental accomplishment comparable to planting more than 166 million urban trees every year.
Job Creation
Improvements in California's rail system also pay off with greater economic activity. Even during the midst of the COVD-19 crisis in early April 2020, more than 800 workers were still out there on that first 119-mile leg of the track.
The real promise is a 1-hour connection between Fresno and Silicon Valley, a linkage that will allow Fresno to participate fully in the Bay Area's information economy. Not only will Fresnans be able to commute to San Jose and San Francisco, but companies now operating in the Bay Area can relocate to Fresno and benefit from its quality of life and lower cost-of-doing business.
The center of that connection will be the Fresno Station in the downtown area on H Street between Fresno and Tulare.
Status
The California High-Speed Rail Authority anticipates that all 350 miles of Phase 1 will be environmentally cleared and ready for construction by 2022 and trains will start running on 171 miles of rail by 2027.